The Learning Disability and Autism Leaders list 2019 has been officially announced!
Our dates-n-mates Aberdeen Director, Sarah, is one of the leaders! Congratulations!
Launched in 2018, by Dimensions UK, the Leaders' List is the UK's first national list celebrating achievements of people with learning disabilities and/or autism.
The list is filled with inspirational people who are helping make society better for everyone and celebrates their achievements across a variety of areas such as art, sport and local communities. The winners were selected by a panel of expert judges and invited to a celebration event in Birmingham.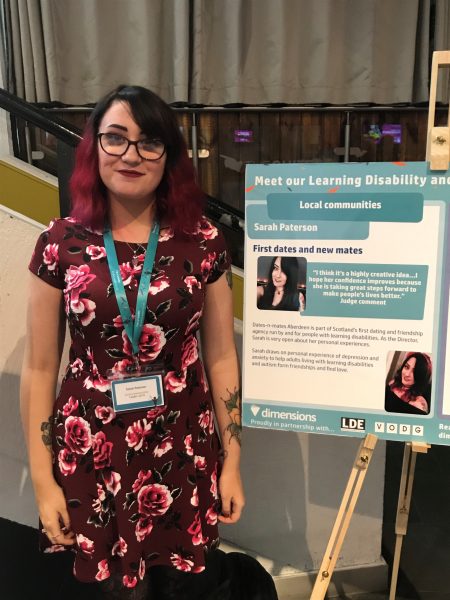 We asked Sarah her thoughts on being one of the chosen leaders:
"When I found out I was nominated as a finalist, I was excited and thinking to myself that this would be a great opportunity for everyone to hear my voice and listen to my story. I was really surprised when I found out I was chosen as one of the "Local Communities" Leaders and it made me realise how lucky I was to be picked, especially knowing there were a lot of nominations.
The celebration event in Birmingham was a great experience and an honour to be recognised for my hard work and effort as the director of dates-n-mates Aberdeen. The event was Autism friendly and I felt relaxed the whole time. It was amazing to see people such as special Olympic gold medalist Kiera Byland, who gave speeches as we applauded with jazz hands. I really enjoyed going to the sensory and quiet rooms too."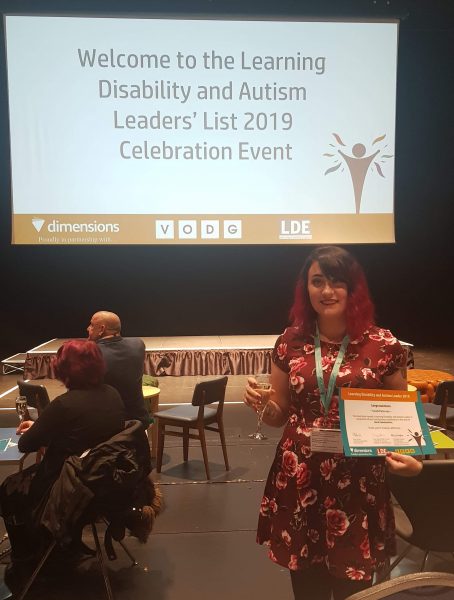 Sarah was chosen as one of the leader's in the local communities category for all the fantastic things she does as part of dates-n-mates. She draws on personal experience to help adults living with learning disabilities form friendships and find love. Recently she has taken on more responsibility and has used her own ideas to create events such as a sensory workshop.
Read Sarah's full leaders story on the Dimensions UK website.